Credentials & Accomplishments
K.R.A. Inc. is proud to be affiliated with industry-leading organizations, a certified installer for industry-leading products, as well as fully licensed.
Fully Licensed
RI License - 5016
---

Better Business Bureau (BBB)
BBB maintains Business Reviews on more than 4.5 million businesses and rates them based on complaint histories, responsiveness to customers, licensing, legal and government action, and other factors. Only Accredited Businesses that meet the BBB Code of Business Practices are permitted to display the BBB logo in their marketing and place of business.
---

Rhode Island Business Association (RIBA)
The Rhode Island Builders Association (RIBA), founded in 1945 as a not-for-profit organization, is one of the nation's largest local trade associations dedicated to serving the housing industry. The Association has nearly 1,000 member companies in Rhode Island and is an affiliate of the National Association of Home Builders.
---

Harvey Window Installer
We have been a certified installer of Harvey products for over 25 years.
---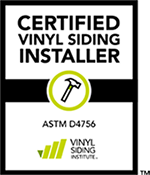 Vinyl Siding Institute Certified Installer
The Vinyl Siding Institute, Inc. (VSI) is the trade association for manufacturers of vinyl and other polymeric siding and suppliers to the industry. Becoming VSI Certified provides a strong understanding of vinyl siding installation and industry recognized installation standards. We complete classes every few years to stay up to date with the latest standards and to remain certified.
---

Certified Therma-Tru Installer
We are fully licensed and trained to be a certified installer for Therma-Tru products. We complete ongoing educational courses to remain a certified installer.
---
CertainTeed Installer
We are a certified installer for CertainTeed vinyl siding and roofing.
---
Accomplishments
Member of the R.I. Builders Association and their Co-chairman for the Lead Abatement Council
Member of the Better Business Bureau
Representative for R.I. Builders on a special senate commission for lead safe housing
Certified Vinyl Siding Installer by Vinyl Siding Institute
Certified Installer of Harvey Windows & Doors